I do this sometimes. My husband does it more often. He has made a decision to make an effort to not prove people wrong. To not argue with people anymore. I'm proud of him. I support him in this decision, and I know that he will do well. I believe that this positive change will be good for him. The following are his words:

"So spurned by the recent positivism being put forth I have decided to hang up my troll hat. I will try very very hard not to post intentionally triggering writings or comments. Im going to try very hard to keep more things to myself, and to give less shits about what other people post…..no matter how wrong I think they may be. Im not going to completely toss that hat out, but I will only try to do some in a joking/endearing way if that is possible.

It just ends up causing too much conflict and strife and nothing really good ever comes of it. Even if I share my opinion, more than likely the other person isnt going to change theirs no matter how many facts or logical thought processes I throw at them.

The past is what it is and I know my decision to try better isnt going to change that for some people, and for some it probably needs to stay the way it is. I dont need everyone to like me, but I would rather it be easier to publicly converse with people at events.

It would even be a christian thing to do, although I dont really consider myself christian as much as I consider myself to be spiritual. Revelations 22:11 NIV "He that is unjust, let him be unjust still: and he which is filthy, let him be filthy still: and he that is righteous, let him be righteous still: and he that is holy, let him be holy still."

Let be what will be. This doesnt mean I will sit idly by when a major grievousness takes place. I will protect myself and mine, but will be more picking which battles to fight and only picking those that are necessary.

I will try hard live by The Three Sieves: Truth, Kindess, Necessity…is it true, is it kind, is it necessary."

I love my husband very much, and together we are going to be more positive. We are going to look at things in a different way, and I believe that our lives will change for the better.
Talking Salmons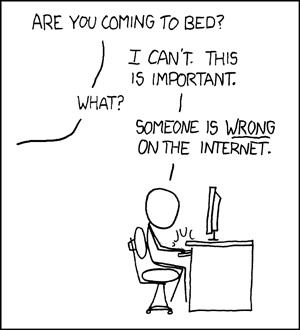 from http://www.xkcd.com
We poke fun at people with OCD tendencies—people who can't let desk items lie crooked, who must break to an even dollar amount at the gas pump—that sort of thing. But I think most of us suffer from OCD tendencies when letting people be mistaken or incorrect, in our opinion.
I'm talking about seeing things on the Internet, Facebook or whatever. It could be a story, a meme, a shared post, whatever. It might be a forwarded email, or a story from a friend, even a their/they're/there or your/you're mixup…who knows? If it's wrong and we know it, there's something in us the springs to life, pushing us to go out of our way to correct the bad information.
Even if we don't know the person, most of us, at some point or another, have inserted ourselves into a conversation or situation and have offered a corrective bit…
View original post 899 more words